"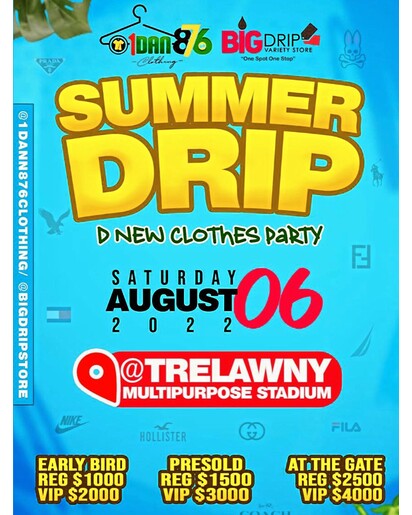 Summer Drip
Trelawny Multi-Purpose Stadium, Jamaica
Big Drip Variety Store and 1 Dan 876 Clothing in association with Stunna Jamaica presents Summer Drip: The New Clothes Party on Saturday August 6th, 2022. Come out in your summer drip, Prada, Physco Bunny, Hollister, Nike, Tommy Hilfiger, Coach you name it. The Trelawny Muti-Purpose Stadium is the place to be.
Details
Trelawny Muti-Purpose Stadium

August 6, 2022 8:00 PM

August 7, 2022 3:00 AM

Entertainment

N/A
clothes
Falmouth
party
Trelawny
Refund Policy
All sales are final. Strictly no refund or exchange.

No photos Found
Oops, there is no information to display here as yet