"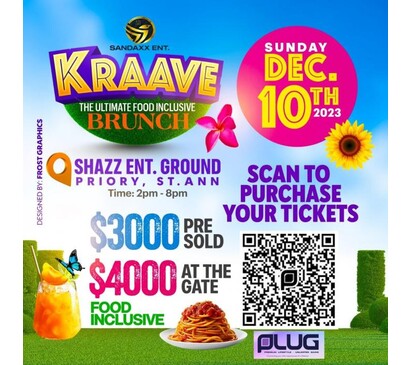 Kraave Brunch
Shazz Service Station, Richmond, Plantation Village, Jamaica
The wait is over! Join the sandaxx team for Kraave the untimate food inclusive brunch at the Shazzz Ent Ground, Richmond, St Ann on Sunday Dec 10th 2023. Music by DJ Ashile, Border Mark, Team X and Bad X. This is a food inclusive event. Must be 18yrs or older to drink. Drink responsibly.
Details
Shazz Entertainment Ground

December 10, 2023 2:00 PM

December 11, 2023 4:00 AM

Entertainment

N/A
Brunch
DJ Ashile
entertainment
Food inclusive
Ochi
More
Refund Policy
All sales are final. Strictly no refund or exchange.